Submitted by

niuaadmin

on 8 August 2022 - 10:57am
Education hasn't changed nearly as dramatically (since the British era in our country) as it did during the pandemic for everyone concerned, whether students, teachers, institutions, or all other critical participants in the education sector, after March 2020, when a coronavirus altered the educational landscape, everyone—regardless of whether they had experience learning online—had to adjust and adapt and jump on the digital bandwagon. Hello? Am I audible? Can you see my video? Became everyday phrase.
"At 315 million, India has the most students in the world" [Varma, S. (2014, July 3)] Having stated that this places the government in a position of immense accountability, and with great power comes great responsibility, in terms of ensuring that all students receive an education, particularly during pandemic-related school closures, this has done nothing but widen the gap between government and private schools. Can we really blame the government for not having access to the same e-learning resources as private schools? Now can we? Additionally, considering that children who attend government schools come from less privileged backgrounds, frequent power outages, a lack of equipment, and a lack of internet connection do not help their situation. In a family of six and one device, Virender Singh's eldest daughter, who was only in class 9th at the time, dropped out of school in the hopes that her younger siblings would be able to finish their education.

Children have been receiving different educations during lockdown (and even when they aren't in lockdown, if we're being honest) in terms of quality of education, resources, or differences due to internet connectivity and India's notoriously unreliable power supply to more structural issues such as curriculum and teaching methods. Educators have been under tremendous stress since India's schools were closed. Furthermore, these students will face greater difficulty than their peers at private institutions in finally resuming regular schooling after a long gap.
The digital gap in India is posing a challenge to the country's current educational practices for all students. For 12-year-old Rahul Oak, studying in a government-aided school that caters to underprivileged and the migrant community children in Mumbai, school time now means he has to run out of his house to the end of the lane a few minutes before class starts so that he can tap into the signal that will rev up his parent's mobile phone and he can see his teacher online (via- .firstpost). Digital connectivity is more important than ever before in ensuring that students can continue their education even when schools are closed.
"Just 24 per cent of Indian households have internet connections to access e-education, and there is a large rural-urban and gender divide that is likely to widen the learning gap across high, middle and low-income families, according to a new UNICEF report."
Not only do students have difficulties, but teachers too endure significant pressures and challenges. Teachers' biggest challenges while teaching from home, as shown in the graph below, are inability to contact the students (75%), and lack of class discipline (51%). Some argue that a lack of e-skills (12%), as well as additional spending (7%), are barriers to effective remote teaching. According to UNICEF research, 8% of teachers do not even own a personal smartphone or laptop, and while many teachers perceived some benefits from teaching remotely, 33% saw no benefits at all (data provided by UNICEF study 2021).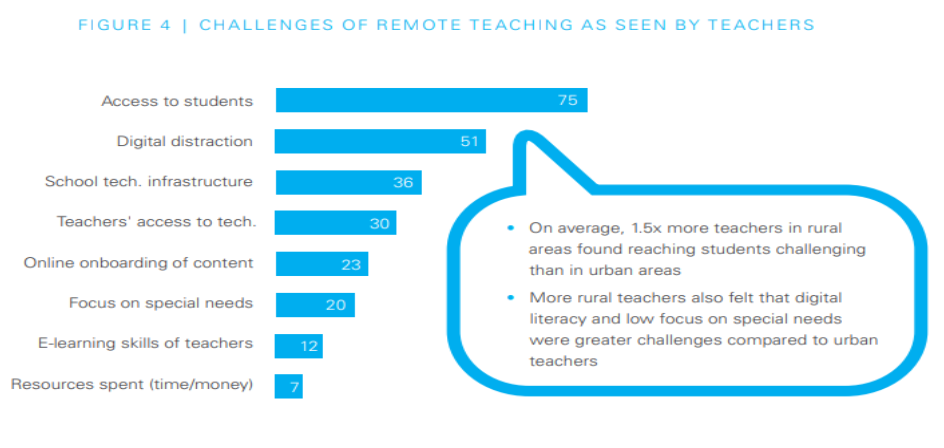 "The learning gap is likely to widen across high, middle, and low-income families, as children from economically disadvantaged families cannot access remote learning." (Press Trust of India, Posted by Nandini. (2020, August 27) ).
The flaws that COVID-19 has uncovered in the educational sector have a direct impact on the government's efforts to achieve the Sustainable Development Goals. It has jeopardized SDGs 4 (ensuring inclusive and equitable quality education and promote lifelong learning opportunities for all) (sustainable development goals | UNDP). Increased financial stimulus for the education sector is required, as is the use of new ideas to get educational institutions back on track.
The future of more than 30 crore Indian students is in jeopardy due to a lack of e-learning tools, as well as concerns such as unstable energy, internet connections, uncomfortable housing conditions, and gender inequity. The shutdown of government schools, in particular, has had a significant impact on a more fundamental issue than technological availability. The government's mid-day meal scheme was implemented in an attempt to improve children's nutritional levels while also ensuring a positive impact on enrolment, retention, and attendance in schools. The closure of these schools harmed around 12 crore children who were able to receive meals through this programme.
The rapid shift to e-learning, prompted by the pandemic, has exposed long-standing issues of inequality and a digital divide in India that must be addressed by future economic, education, and digitization policies. - [UNESCO – a global leader in education, The Global Education 2030 Agenda, & UNICEF. (2021, October)]
It's difficult to teach youngsters in a classroom setting. It is far more difficult to teach youngsters at home. We can learn a lot from the state of Uttar Pradesh (which is a first), where the state provided a lot of e-worksheets and then visited people at their homes.The government started the "Pradhan Mantri e-VIDYA" programme to make sure that the pandemic does not have an adverse impact on schooling,to provide digital education through a variety of media, including podcasts, TV shows etc. DIKSHA and ePathshala can be used as examples of NCERT's efforts to bridge some gaps. Or the center can also take Kerala's lead in broadcasting educational classes on television (ETV) : Kerala Infrastructure and Technology for Education (KITE) called "First bell" ,the education administration were concerned about a group of students who lacked access to online learning opportunities, the channel is free and accessible across the state via cable networks, the internet, and direct-to-home services. All of the classes are available for download, and they can be assembled and later displayed to others who were unable to attend. The KITE Victers website, smartphone app, and social media profiles all offer simultaneous access to the sessions on the Victers channel. Teachers also send timetables of the shows to students and parents via WhatsApp. In addition, the state of UP established a toll-free number to phone teachers on a regular basis to see if they were teaching. Teachers were required to respond yes or no by dialing a specified number on their cell phones (the telephonic inspection has many loopholes, but at least it's a start). Government organizations and many other critical stakeholders must now learn from the covid pandemic (the do's and don'ts) and be prepared for the next time something even worse occurs.
Please read our next blog, "Aging Digitally," for detailed information on the what, where, and how there is an impact on the elderly population.